Ten Of The Funniest Christmas Movies Of All Time
Ten Of The Funniest Christmas Movies Of All Time
Dec 08
Christmas movies are some of the most beloved in cinema, but they can also be weepy and very sentimental. We prefer our holiday movies filled with laughs and comedy. Ho ho here's our review of the top 10 funny Christmas movies:
10 Funny Christmas Movies To Add To Your Holiday Watch List
1. Elf
Will Ferrel stars as an over-sized orphan elf raised at the North Pole in this manic holiday vehicle from 2003. He sets out to find his birth father in the Big Apple and all kinds of Will Ferrell-sized obstacles trip him up. Dumb fun from one of the best comedians in the business.
2. Home Alone
A true classic from 1990, Home Alone made a star out of Macaulay Culkin (as Kevin, unintentionally abandoned by his family over the Christmas season), and entered the cultural zeitgeist as the ultimate parental anxiety parable. Joe Pesci and Daniel Stern play the bumbling bad guys who are no match for Culkin's imaginative defense strategies.
3. Scrooged
A contemporary variation on Dickens' Victorian-era story that has been interpreted for cinema a bunch of times. Scrooged stars Bill Murray delivering an understated and quirky comic performance as television executive Frank Cross, a modern-day Ebenezer Scrooge.
4. Bad Santa
Perhaps the most irreverent of the films listed here, Bad Santa takes one loser kid and one really bad, really foul-mouthed Santa (a hilarious Billy Bob Thornton) and teams them up to learn from each other. Tony Cox plays Thornton's elf midget sidekick with unstoppable zeal.
5. The Santa Clause
When the real Santa takes a tumble from his roof, advertising exec Scott Calvin (Tim Allan) dons the suit and begins a transformation that is more than just physical. This 1994 Disney effort spawned a bunch of sequels, none of which surpass the original.
6. Trading Places
This 1983 effort starring Eddie Murphy and Dan Akroyd is a great comedy. Period. But it does happen to have a seasonal theme as the action begins to unfurl against the backdrop of Philadelphia at Christmas time. Critic Rex Reed called it "… an updated Frank Capra with four-letter words, and I can think of no higher praise than that"
7. A Christmas Story
Based on tales by humorist storyteller Jean Shepherd, A Christmas Story revolves around a young boy obsessed with getting a Red Ryder BB gun for Christmas, despite many grown up warnings that "you'll shoot your eye out." When it was released in 1983, the film's reviews were lukewarm, but critical response has grown since then. It is now considered a comic seasonal classic right up there with the Grinch.
8. Jingle All the Way
An oh so relatable comedy starring Arnold Schwarzenegger and Sinbad as two Dads who leave shopping until Christmas Eve, and then will go to any lengths to procure a coveted Turbo Man doll for their kids.
9. Ernest Saves Christmas
Jim Varney fans will rejoice as their hero plays multiple roles in this 1988 comedy, including Ernest P. Worrell the Third. The implausible and somewhat frantic plot has Ernest giving a cab ride to a Santa on the cusp of retirement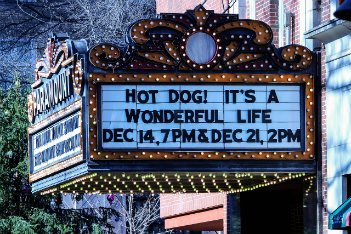 and where they go from there.
10. Mixed Nuts
This 1994 screwball comedy is pretty much a vehicle for the feverish talents of Steve Martin. He's in good and
witty company – Nora Ephron wrote the script and the film also stars Madeline Kahn and Rob Reiner. The Christmas Eve action involves a suicide prevention hotline, a serial killer and a whole lot of slapstick comedy.
With the holiday season in full swing, it's time to line up the holiday viewing. The films listed will add some genuine laughs to the mix of dancing snowmen and flying reindeer. Happy holiday viewing.