Funny Holiday Movies To Watch This Season
Funny Holiday Movies To Watch This Season
Dec 05
The holiday season comes with a fair share of excitement. Most families host guests and relatives, who flock home to share in the Christmas spirit. That said, space can become an issue when you host so many people. A great way to entertain? Watch a family movie, and what better way to share in the holiday fun with some laughs. There are plenty of Christmas movies that feature amazing comic actors who can crack your ribs. If you're looking for a funny Christmas film to share with your family, here's a list of movies to watch out for.
Warning: There are some spoilers ahead.
Top Christmas Comedies To Watch This Holiday
1. Christmas With The Kranks
If you love John Grisham's Skipping Christmas, then Christmas with The Kranks will lighten up the Christmas vibe. The film stars Jamie Lee Curtis, Tim Allen, and Dan Aykroyd, who feature as the Kranks, a family that loves the yuletide, but makes the unexpected decision to skip Christmas following the discovery that their daughter will be away for the holidays. What ensues is a rift between them and their neighborhood, solely because of their decision to skip in the celebrations. However, the bone of contention is soon alleviated when their daughter makes a return home and restores the jovial Christmas mood.
2. Home Alone
Home Alone is one of the best Christmas movies. It exudes a hysterical and funny aura that brings out the holiday spirit. The film brings out comedy from one of the worst nightmares a parent can have during the holidays – accidentally keaving a child at home while the entire family is away on vacation. The film portrays the comic brilliance of four integral forces behind the movie – Chris Columbus, the writer; Kevin's mother (Catherine), and the movie's main man, Macaulay Culkin.
3. Bad Santa (I & II)
Comedy lovers were initially introduced to Bad Santa in 2003. In the movie, Willie, played by Billy Bob Thornton, entertains viewers and brings out laughter in what one ought not to joke about. Accompanied by his Little Helper, Willie attempts to rob a Christmas gift shop. In 2016, the "robbers" are back again with more comedy and fun. In this second release, Bad Santa is joined by his mother (Kathy Bates) with an intention of robbing a charity organization. It is one of the Christmas movies that require parental guidance as it features a lot of explicit language and sexual themes.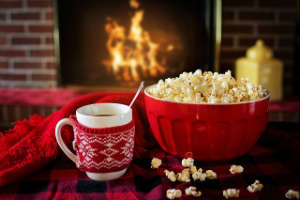 4. Elf
Starring the ever-hilarious Will Ferrell, Elf has got to be one of the goofiest Christmas movies. Buddy, played by Ferrell, is a human who was transported to the North Pole by accident. He was raised as an elf, but after growing up, he notices that he's out of place, both figuratively and physically. He decides to move to New York in search of his biological father. His quest is characterized by various human encounters including falling in love, becoming employed and trying to fit into the new community. Most significantly, he's tasked with saving Christmas after Santa faces some drawbacks. The film has a charming and festive feel that compliments the Christmas season.
5. A Very Murray Christmas
A Very Murray Christmas is a 56-minute musical that appeals to anyone in the mood for "Murray" festivities. As expected, the film features top-rated comedian Bill Murray. In the film, Bill's hopes of hosting a holiday TV special shatter into pieces because of an unexpected snowstorm that paralyzes transportation within the city. Bill's worries escalate with the thought that most of his guests won't be able to attend the show. However, with a little help from various comedy acts, including Chris Rock, George Clooney, Miley Cyrus, and Amy Poehler, Bill's Christmas starts looking up.
6. Just Friends
Christmas means a time that you return home and catch up with old friends. That's the same thing that Chris Brander, played by Ryan Reynolds, experiences in his return home one Christmas. Brander accidentally bumps into his high-school best friend and crush. Brander, now an established man and a womanizer, sees a chance to have the lady he always wanted. Unfortunately, things go awry for Brander, as he soon finds out that he's lost his charm in his hometown.
Christmas does not need to be boring. And with the prospects of hosting so many guests during the holiday seasons, grab one of the above movies and share a merry festive season with laughter.