Review Of The Top 8 Hanukkah Comedies And Specials
Review Of The Top 8 Hanukkah Comedies And Specials
Dec 18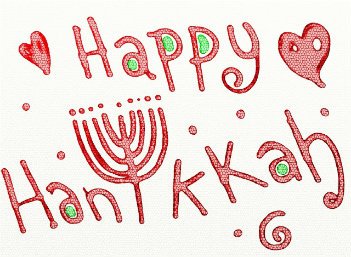 December is often regarded as the month for Christmas. Even though that might be true for many, that doesn't mean that all people are going to partake in the holiday festivities on December 25th. While many will be celebrating Christmas soon, countless others celebrate Hanukkah. There are numerous movies and shows on television that depict Christmas, but what about Hanukkah? If you are looking for top Hanukkah comedies and specials that the whole family will love, check out some of these specials below.
Top 8 Hanukkah Specials
Shalom Sesame: Chanukah Special
If you have little ones in the house, you have to check out this special. The Sesame Street favorite, Grover, goes on an exploration of his identity and the various Jewish traditions. The show also covers some different Israeli sites like the stunning Western Wall in beautiful Jerusalem. Though not a comedy, it is definitely a special the children will love.
Chanukah on Planet Matzah Ball
This imaginative tale is all about a family of Jewish aliens living in outer space. The family is working hard to discover why a mysterious menorah has crashed onto their planet. It has a combination of animation, music, and puppets, making it ideal for your entire family to enjoy.
Lights: The Miracle of Chanukah
This delightful animated story first came out back in 1987. It serves as a good introduction to what Hanukkah is all about, which is great for non-Jews and children. While the show only lasts for 28 minutes, it is entertaining for children and adults alike.
Eight Crazy Nights
Anyone who knows Adam Sandler probably remembers this movie. It is based on his Chanukah Song and came out in 2002. The animated musical is a comedy featuring the stylings of Adam Sandler, Rob Schneider, Tyra Banks and Jon Lovitz. Since it is rated PG-13, it might not be suitable for younger children.
Lamb Chop's Chanukah and Passover Surprise
Shari Lewis is widely known for her puppet Lamb Chop and their many adventures, not to mention the song that never ends. She uses dance, puppetry, music and crazy jokes to create this brilliant comedy that discusses Passover and Chanukah. Lamb Chop, Charlie Horse, and Hush Puppy are up to their same crazy antics in this hilarious holiday comedy special.
A Rugrats Chanukah
Rugrats was a hit animated series that aired on Nickelodeon for quite some time. This special is based on the same lovable characters that made the series so funny and amusing. Grandma Minkus tells the children the beautiful story about Hanukkah that takes the babies on one of their classic historical adventures in this entertaining tale. Perfect for both children and adults of all ages.
The Hebrew Hammer
This tale features Andy Dick, Adam Goldberg, Judy Greer and Rachel Dratch. It's a film about a hero who comes in and saves Hanukkah from the son of Santa Claus himself. It resembles that of a Mel Brooks or Wayans Brothers comedy, which is sure to leave you laughing and having a blast. Because the comedy is rated R, it isn't meant for younger viewing.
The Gift of Chanukah
Enjoy this interactive DVD with videos all about Chanukah menorahs, plays, and miracles that are designed for the entire family. Everyone will enjoy the extras on the DVD, such as the delicious recipes for doughnuts and latkes or the games everyone can play together during the holiday season.
While there might not be hundreds of Hanukkah movies out there today like there are Christmas movies, there are still plenty of them out there for you to enjoy watching with your loved ones. Spend time checking out a new movie each day of the season and see which one you enjoy the most. There is something for everyone with these holiday specials.