10 Best Comedy Podcasts To Listen To
10 Best Comedy Podcasts To Listen To
May 12
For some people, podcasts, without exaggeration, are true life-saviors. They give an opportunity to disconnect from everything and everybody and sink into the world of silliness and grotesque. Earphones on or off, the show is on as well as the funny side of the brain.
10 Best On The Go Comedy Podcasts
Here's a list of 10 best comedy podcasts to brighten up your day.
1. One Bad Mother
Whether you're a person living through the not always magical moments of the not constantly wonderful experience of parenthood, or just somebody who likes the kind of humor Biz Ellis and Theresa Thorn deliver, you will be hearing about motherhood and how embarrassing and unnatural it can sometimes be.
2. Gilmore Guys
Long live the "Gilmore Girls" series! This podcast brings two opposing views of two guys – a fan and a novice – who watch the series and react to it. They also have a social media based Q&A section discussing themes brought up by the audience.
3. The Last Podcast On The Left
Hysterical threesome – Henry Zebrowski, Ben Kissel, and Markus Parks – deliver an in-depth comical analysis of crime, paranormal and horror of both real and imaginary worlds.
4. Psychobabble
This crazy audio series definitely makes Tuesdays much easier to survive. Tyler Oakley and Korey Kuhl keep people laughing for days and certainly help some save money on therapy.
5. Your Mom's House
This podcast talks pretty much about everything. Being part of "All Things Comedy" network, it is hosted by two fearless professional comedians, Christina Pazsitzky, and Tom Segura. The two "Mommies" have the chemistry of a married couple on their side to create the best kind of laughs.
6. How Did This Get Made
A show like this won't let a bad (or not so much) movie get away with it. Featuring a different guest each time, it takes the mickey out of blue screen features. The podcast is a part of Earwolf network and hosted by June Diane Raphael, Paul Scheer, and Jason Mantzoukas. These guys are so good that sometimes there is no need to even watch the actual movies.
7. Guy We F—-d
Corinne Fisher and Christina Hutchinson are speaking in the name of many women. These two aren't ashamed of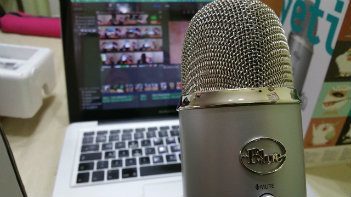 sleeping around and they certainly make sure to let everybody know about it. This is the official "No to Slut-Shaming" podcast. Each time they interview a different guy they either slept with or had sex with or made love to or…you know…whatever word suits best to describe that sort of action.
8. Welcome To Night Vale
Twice a month, on the 15th and 30th, the audience is invited by Cecil Gershwin Palmer to visit the creepy and eerie fictional southwest desert town, Night Vale. Everything which is mysterious and unexplained is happening in this place; all being supervised by the watchful eye of Sheriff's Secret Police. The podcast is based on the series created by Jeffrey Cranor and Joseph Fink.
9. WTF With Marc Maron
The show airs twice a week and is mostly recorded in Marc's garage, "the Cat Ranch". The program consists of interviews with comedy writers and comedians. Marc's controversial and honest personality is directly interlinked with his entertainment persona; nothing is sacred. The podcast brings engaging personal revelations of key comedy and public figures alike.
10. 2 Dope Queens
This show is new on the podcasts' scene and definitely deserves attention. Combining live stand-up and conversations of the intimate kind, it discusses everything that can matter to a person of color and any other human being for that matter. This Brooklyn-based show is a breath of fresh air for many people, allowing an advanced platform for comedians from various backgrounds.