Halloween Movies That Will Have You Howling With Laughter
Halloween Movies That Will Have You Howling With Laughter
Oct 17
Halloween movies don't have to scare you; they can also leave you howling with laughter. In every Halloween movie, you will find some scary scenes that will make you scream with fear or laughter. Ira Riklis has compiled a top 5 five comic Halloween films that you can watch and laugh to tears.
The Addams Family
The Addams Family is a dark comedy and one of the Halloween movies that will make you roll on the floor with laughter. The characters are the same as those in Charles Adam's cartoon, but with the addition of a crooked accountant. They all have supernatural abilities, but they are a beautiful, wealthy family. Gomez Adams loves his wife, Morticia and their daughter Wednesday.
The humor of the movie is in full swing when the family clashes with other people. They are friendly and do not know some of their visitors have bad intentions. They get horrified when people react differently to their behavior because they believe they are not any different from the outside world. Anyone who visits them suffers a life-changing event such as going crazy, changing jobs or leaving the country.
Practical Magic
This movie is about two sisters, Gillian and Sally Owens, who are witches by birth. They were brought up by their weird spinster aunts in a little town. They are the latest in a lineage of the witches. There have been rumors about the Owen women being witches for generations in the small town, but there is no evidence. It is the truth; the two girls are expected to become witches just like all the other Owen women.
As if that is not enough, they are cursed, and any man who falls in love with them is doomed. Gilly chooses to move from the island and live her life away from her family. She falls in love with Jimmy Angelov. Sally decides to use the magic for practical reasons and takes care not to fall in love, but ends up finding her love and marries a local merchant and they get two daughters. Sally and Gilly's husbands are doomed and perish in untimely deaths. This makes the women use their supernatural powers to fight the family curse because it threatens all Owens women. The movie is scary and exciting as the women make use of dark powers to secure their freedom.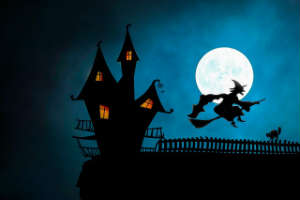 Sweeney Todd
Benjamin Barker is back in London after being in exile for years – all due to a crime he never committed. He finds out that Judge Turpin killed his wife Lucy and their infant daughter Joanna. Barker is seeking vengeance, and with the help of Mrs. Lovett, he sets up a barbershop, and his murderous rampage in London begins. Benjamin smiles and lures victims into his barbershop, only to slit their throat with a razor. He kills ten thousand men to satisfy his craving for vengeance to people he believed caused him years of pain, but trust us – the movie proves to be light entertainment, and funny to boot. 
Hocus Pocus
In 1693, the Sanderson sisters were killed for practicing witchcraft. Three hundred years later, Max Dennison is a teenager who has just moved to Salem from California. He wants to impress a girl, and in the process, he lights a candle that brings back the three witches – Mary, Winifred and Sarah Sanderson.
Now Dennison, Allison, his girlfriend, and her little sister must save the lives all the kids in Salem. It is comical but still scary as they try to outwit and outrun the witches.
Casper
Carrigan Crittenden is an heiress who has been given a haunted house by her father, instead of the millions of dollars she wanted. She's furious – and ready to destroy the house in a fire when she sees a map showing where the treasure is hidden. She goes in to get it and is scared away by evil ghosts.
She is determined to get the treasure, so she hires Dr. Harvey, who is an afterlife therapist to remove the ghosts from the house. Harvey works his wonders and soon she meets Casper, a young ghost boy who is a nephew to the evil spirits. The evil ghosts want Kat and her dad out of the house or Kat and Harvey to help them become human beings.
These Halloween movies include some hilarious but scary murder scenes. They are comic and full of gruesome scenes for the Halloween season.