Let's Hear It For The Girls: Current Top 10 Female Comedians
Let's Hear It For The Girls: Current Top 10 Female Comedians
Apr 20
Comedy has been an area that has for far too long been dominated by men. Not anymore, more and more female comedians are making their mark in this industry. Here are the best female comedians out there at the moment and the movies you can see them in.
Top 10 Funny Women
1. Melissa McCarthy
She is probably one of Hollywood's favorite fun-making ladies, joyous and skillful talent in a world of comedy. Some of her movies are:
The Heat, where she gives a ludicrous performance, co-starring Sandra Bullock, who is as equally side-splitting.
Bridesmaids, where she plays alongside Kristen Wiig and Maya Rudolph.
Tammy, where she teams up with Susan Sarandon, who portrays her tipsy granny; together they voyage through a heart-touching journey.
2. Miranda Hart
She is a British comedian, an actress, and a writer; best known for her TV sitcom 'Miranda'. Some of her movies are:
Spy, where she plays Nancy, Melissa McCarthy's sidekick. This uproarious comedy was made by the director of 'Bridesmaids', Paul Feig, who gave Miranda her Hollywood debut.
Mothers and Daughters is an independent film from 2004, offering a straightforward and funny outlook on the intricacy of mother-daughter relationships. It was released in U.S.A. in 2009.
3. Amy Schumer
She is a young and ambitious stand-up performer, a writer, and an actress. While some people might not get her humor, she has won and was nominated for numerous awards. Her works include:
Inside Amy Schumer, which is a provocative and wicked TV series, co-written by the actress and featured on Comedy Central.
Trainwreck, which is a romantic comedy written by Schumer, featuring Tilda Swinton and basketball player James LeBron.
4. Maya Rudolph
The actress and comedian was  once a cast member on 'Saturday Night Live' NBC sketches in the years 2000-2007. Her films include:
Idiocmaya rudolphracy is a sci-fi satire in which she plays opposite Luke Wilson.
Grown ups and Grown ups 2 are both highly amusing and starring Adam Sandler in an adulthood reunion of old time buddies.
5. Kristen Wiig
She is another multifaceted talent on the comedy scene. Having played the lead in 'Bridesmaids', she too is known for her contribution to the series 'Saturday Night Live' in the years 2005-2012. Her movies include:
The Secret Life of Walter Mitty with Ben Stille.
Ghostbusters 3 which is going to be released in cinemas on July 15th, 2016. Directed by Paul Feig, it will have two femmes fatales side by side: Wiig and McCarthy.
6. Lena Dunham
Dunham is a versatile and talented actress who also runs her own publication Lenny Letter. Among her other works are:
Girls is a dramedy series, which Dunham has written and also stars in. She has won various awards for it, including one for outstanding directing.
Not That Kind of Girl is a book that has received very positive reviews.
7. Sara Silverman
She is probably the most prominent female stand-up comedian of today. Sara is also a writer, producer, and actress. In her comedy, she ironizes that which burns the most: taboos and controversial themes. She has won awards for her work on TV. Among her works are:
The Sara Silverman Program ran on Comedy Central from 2007-2010.
School of Rock is an uplifting musical starring Jack Black about ex-rock band member turned teacher. Silverman is in supporting role next to Joan Cusack.
8. Reese Witherspoon
Not quite the most likely to be called a comedian, but Witherspoon began her career in childhood and was noted for her talent right from the start. She is a versatile performer who can hold a screen all by herself as she has proved so well in Wild, as well as be convincingly funny. Among her comedies are:
How Do You Know is a romantic dramedy with Witherspoon in the lead, co-starring Jack Nicholson, Owen Wilson, and Paul Rudd.
Sweet Home Alabama is a romantic comedy about a woman returning to her southern home to get her seven-years-overdue divorce finalized.
9. Rebel Wilson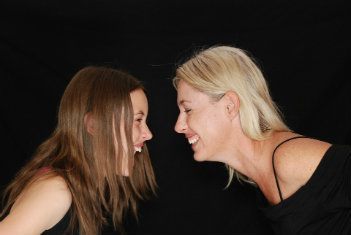 She is the one to be on the lookout for. This star is hilariously funny in the sweetest yet kinkiest kind of way. Wilson is an Australian stand-up comedian, writer, and actress. Her works include:
How to Be Single is a 2016 romantic comedy about single ladies in New-York.
Pitch Perfect and Pitch Perfect 2, where she stars as Fat Amy, giving an unforgettable performance.
10. Leslie Mann
Being more on the subtle and intelligent side of comedy, this actress brings her own uniqueness to any movie. Some of those are:
The Other Woman, where together with Cameron Diaz, Mann avenges her unfaithful husband.
17 Again, is a fantasy dramedy about a man turning back into a teenager, where Mann is playing opposite Zac Efron.