Funny Beard Facts And No-Shave November Humor
Funny Beard Facts And No-Shave November Humor
Nov 07
No-shave November is a month during which men put their shaving kits down in order to stir up conversations with a purpose of raising money for charity meant to fight men's health issues like prostate cancer, testicular cancer, and mental health problems like depression. To participate in the No-Shave November, one rule applies: The event begins on November 1st, and you need to start it with a clean shave. The aim of No-Shave November is to raise awareness by embracing the hair (beards) that many cancer victims lose during treatment. In addition, the No- Shave November participants should donate the money they spend on getting a haircut or grooming their beard in support of the cause.
However, the actual No-Shave November significance and meaning usually get lost amid all the hashtags, jokes, and hype designed by the media. Some men don't even know why they do it with others using it as an excuse for not shaving for an entire month.
No-Shave November Origin
So, where, how, and when did it all begin? No-Shave November began after a father succumbed to colon cancer in Chicago. In honor of the father, his sons and daughters began the campaign in 2009. Over the years, the course has gained popularity and becoming a thing to do amongst several Americans.
No-Shave November Funny Beard Facts
Funny fact one
To grow a good beard, you need more than a month. To develop a remarkable beard that women go crazy about it takes a little longer. On average, a beard grows half an inch every month. Therefore, if you expect to grow a hip beard in a month, you might just as well take it to the World Beard and Mustache Championships and get their point of view.
Funny fact two
You definitely know how popular gold chains are in the hip-hop world today. Well, did you know men in the ancient Egyptian times dyed their beards and plated them with a golden thread to highlight their high-ranking status?
Funny fact three
Early philosophers often maintained their beards as a symbol of their profession.
Funny fact four
Did you also know that a fancy way of saying shaving is pogonotomy?
Funny fact five
If a man starts shaving at the age of 14 and presumably lives to the age of 75, he spends 4.5 to 5 months of his lifetime executing the chore.
Funny fact six
Your beard has poop in it, well, maybe not actual poop. However, studies have indicated that the beard may be as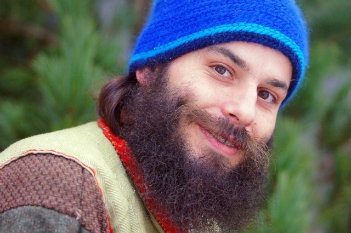 dirty as the toilet. It doesn't necessarily mean that since you clean your face or take daily baths, your beard is squeaky clean.
Funny fact seven
In a letter, an eleven-year-old girl persuaded Abraham Lincoln to grow a beard. She wrote that he would look far much better because his face was so thin.
Funny fact eight
During the Victoria era, the noblemen had mustache spoons, which they used to guard their mustaches when eating soup. Made with a guard around the rim, the spoon served as a boundary between the soup and the mustache.
Funny fact nine
Did you know that in 1997, Shamsher Singh of Punjab, India, had his beard measured officially? From the edge of the jaw to the tip, it was 1.83m (6ft) long; the longest beard on a living man.
Funny fact ten
If you grow a beard, especially a thick mane, most compliments will be expressed from other guys and it's considered an alpha trait. Hold your horse; you will still get annotations from the females, as long as you keep your beard well groomed.
In sum, the whole No Shave November reason is to create awareness and raise money for cancer. While doing so, it wouldn't hurt to enjoy the funny beard facts mentioned above as a toss to celebrate whiskers' month.